MWR Aquatics Facility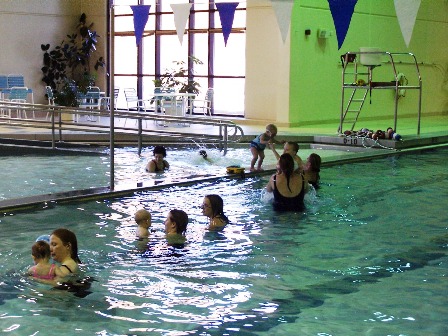 The Aquatics Facility is located in the Northern Lights Recreation Center. The pool, built in 1995, is 25 yards long and features a slide and zero entry handicap access. Activities offered at the pool include daily lap swimming, open swim, water aerobics and swim lessons. Lap swimming and water aerobics are FREE to active duty and dependents. Pool passes are available for purchase at the Gear Issue desk for patrons who plan on visiting the pool on a more frequent basis.
Children swimming in the main body of the pool must be able to swim one length of the pool comfortably, or be in a life jacket or swimming next to an adult. Children using the slide or diving board must be able to pass the facility swim test.
The pool slide is open during Open Swim.
Come out and enjoy the warm waters of our aquatic facility.
Open Swim & Parent/Tot Swim Fees:

18 years and older - $3.00
3 years to 17 years - $2.00
2 years and under - Free

18 years and older - $4.00
3-17 years old - $3.00
2 and under - Free
Prepaid Pool Punch Cards available for purchase at Gear Issue desk.
Adult 5 Pass Punch Card - $15
Adult 10 Pass Punch Card - $30
Child 5 Pass Punch Card - $10
Child 10 Pass Punch Card - $20
Privat Pool Rentals.
The pool may be reserved for private events. Reservations must be submitted and approved by the last business day of the month prior to your rental.
To submit a reservation request or for more information, contact the Pool Manager at basekodiakmwrpool@gmail.com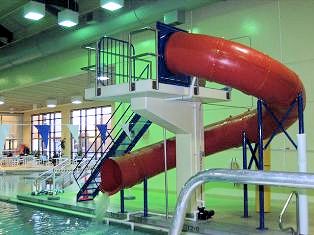 Featured Activities:
Youth Swim lessons:
Provided throughout the year. Dates and Times are featured in the monthly MWR activity notice link above. For class level information contact the pool manager at 487-5391.
Water Aerobics:
Available throughout the year. Routines are developed by the class instructor. A great way to stay in shape.
Parent/Tot Swim:
A special time for young children and their parents. A great way to explore the world of aquatics with your toddler in a calming pool setting.